Hot Toys 1/6th scale Wakanda Throne [Black Panther]
Price: HK$650
Black Panther is stunning in reimagining Africa's aesthetic and cultural aspects on a cinematic experience, and fans were deeply amazed by the awe inspiring landscapes and gorgeous infrastructure of Wakanda including the Throne Room. Today, Hot Toys is thrilled to expend on Black Panther Collection series with the one-of-a kind Wakanda Throne reserved for the young King of this futuristic African Nation.
Perfectly crafted with authentic and fantastic details, the movie-accurate 1/6th scale Wakanda Throne collectible stands approximately 32.5 cm in height, 19 cm in width features an extra-high back peacock chair that beautifully combined with woven rattan ends, decorated with Wakanda's unique graphical script, and finished with metallic painting and natural wood grain texture intricately.
Bring the wild excitement of Marvel Studios' Black Panther to life with this highly-detailed Throne for the heir of Wakanda!
Specifications
Product Code : ACS005
Product Name : Wakanda Throne
Height Approximately : 32.5 cm tall and 19cm wide
Points of Articulations : 0
Special Features : Specially applied multi-layered metallic painting with weathering effect and natural wood grain texture
ArtistsHead Sculpted by N/A.
Head Painted by N/A.
Head Art Directed by N/A.
The 1/6th scale Wakanda Throne Collectible specially features: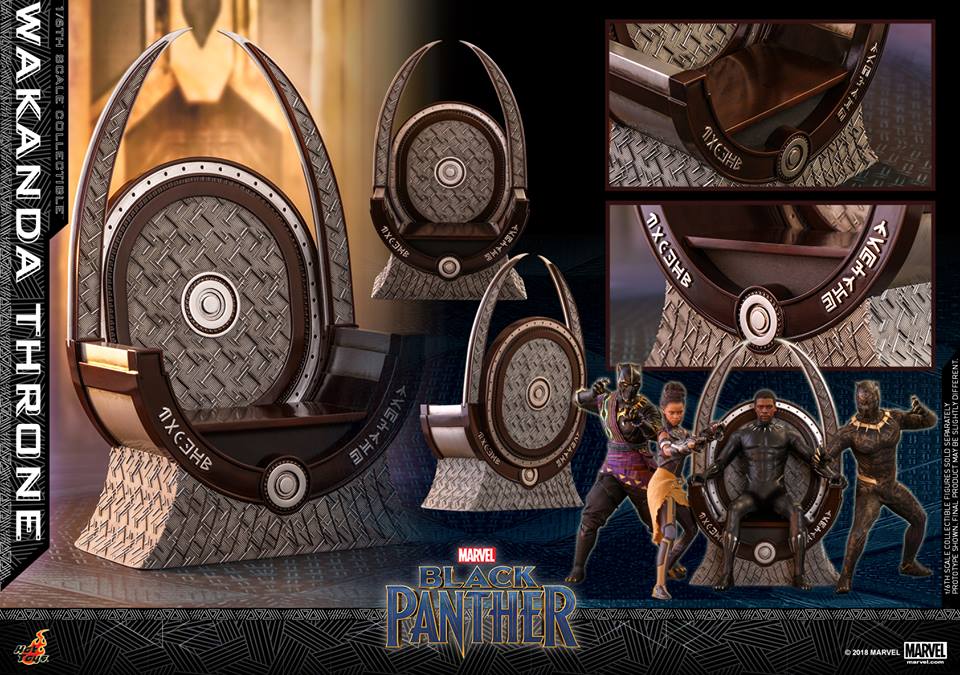 – Masterfully crafted with authentic and fine details of the Wakanda Throne in Black Panther
– Approximately 32.5 cm tall and 19cm wide
– Brown and silver-colored high back chair
– Specially applied multi-layered metallic painting with weathering effect and natural wood grain texture