Hot Toys 1/6th scale Deadpool [Deadpool 2]
Release date: Approximately late 2018 – early 2019
Price: HK$1.530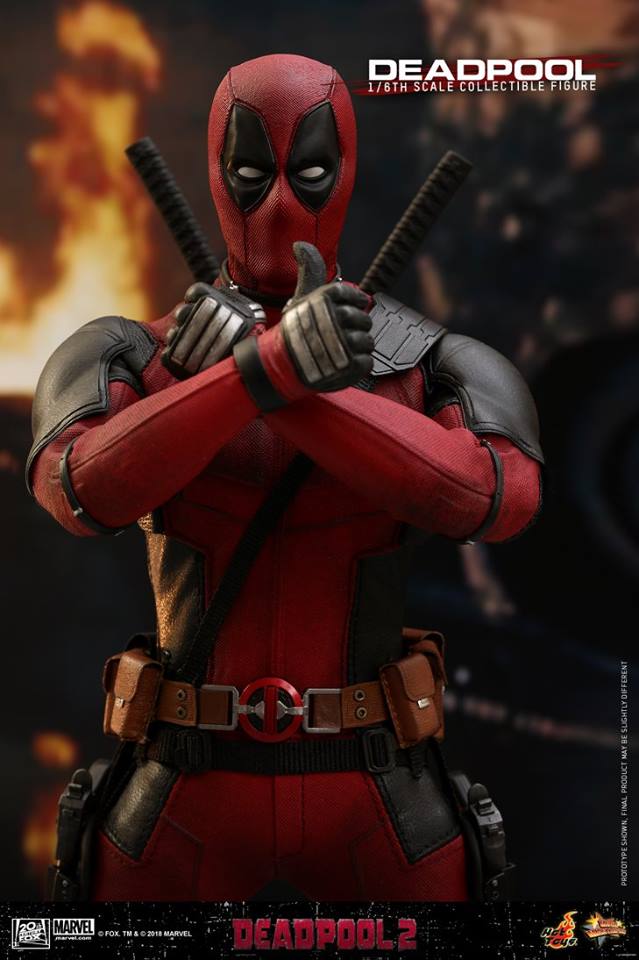 ♪ I can see a new horizon underneath the blazin' sky ♪
♪ I'll be where the eagle's flying higher and higher ♪
Everyone's favorite foul-mouthed Merc is back! Fans are extremely eager to see the highly-anticipated Deadpool sequel since the exciting trailers released worldwide! The red-suited mercenary otherwise known as Wade Wilson is battling time traveler Cable, to protect a fire-wielding mutant youth, while assembling some fellow mutants he calls X-Force, an offshoot of the X-Men.
To celebrate upcoming film Deadpool 2, Hot Toys is very thrilled to bring to you today the new 1/6th scale Deadpool collectible figure based on the forthcoming movie!
The movie-accurate collectible figure is specially crafted based on the appearance of Deadpool from the film. It features a masked head sculpt with 5 pairs of interchangeable eye pieces to create numerous combinations of Deadpool's expressions, an iconic red and black Deadpool suit made with new materials and excellent tailoring, Deadpool's signature weapons including a pair of metal swords, a dagger, and pistols, DP's favorite mystical animal toy unicorn, a pair of interchangeable high heels, an X-Men Trainee jersey, a wearable neck device, variety of interchangeable hands available for different gestures, and a specially designed Deadpool 2 themed dynamic figure stand perfect for aerial poses!
Specifications:
– Product Code: MMS490
– Product Name: Deadpool
– Height: Approximately 31 cm tall
– Points of Articulations: 30
– Special Features: A Deadpool head with five pairs of interchangeable eye pieces, A black and yellow-colored X-Men Trainee jersey, One pair of interchangeable black-colored high heels
– Artists: Head Sculpted by Kojun
– Head Painted by JC. Hong
– Head Art Directed by JC. Hong
The 1/6th scale Deadpool Collectible Figure specially features:
– Authentic and detailed likeness of Deadpool in Deadpool 2 movie
– A Deadpool head with five (5) pairs of interchangeable eye pieces that can create numerous combinations of Deadpool's expressions
– Approximately 31 cm tall
– Body with over 30 points of articulation
– Twelve (12) pieces of interchangeable gloved hands including:
– One (1) pair of fists
– One (1) pair of relaxed hands
– One (1) pair of katana holding hands
– One (1) pair for gun holding hands
– One (1) pair of finger pointing hands
– One (1) thumb-up right hand
– One (1) OK-sign left hand
– Each piece of head sculpt is specially hand-painted
Costume:
– One (1) specially tailored red and black-colored leather-like Deadpool suit
– One (1) black and yellow-colored X-Men Trainee jersey
– One (1) brown-colored leather-like belt with metallic red buckle
– One (1) pair of thigh gun holsters
– One (1) dagger sheath on shin
– One (1) pair of metallic red and black-colored boots
– One (1) pair of interchangeable black-colored high heels
Weapons:
– One (1) dagger
– Two (2) metal katanas
– Two (2) pistols
– Two (2) shurikens
Accessories:
– One (1) pair of katana sheath
– One (1) wearable neck device
– One (1) unicorn doll
– A specially designed Deadpool 2 dynamic figure stand with Deadpool nameplate, movie logo and backdrop