Hot Toys 1/6th scale Deathstroke [Batman: Arkham Origins]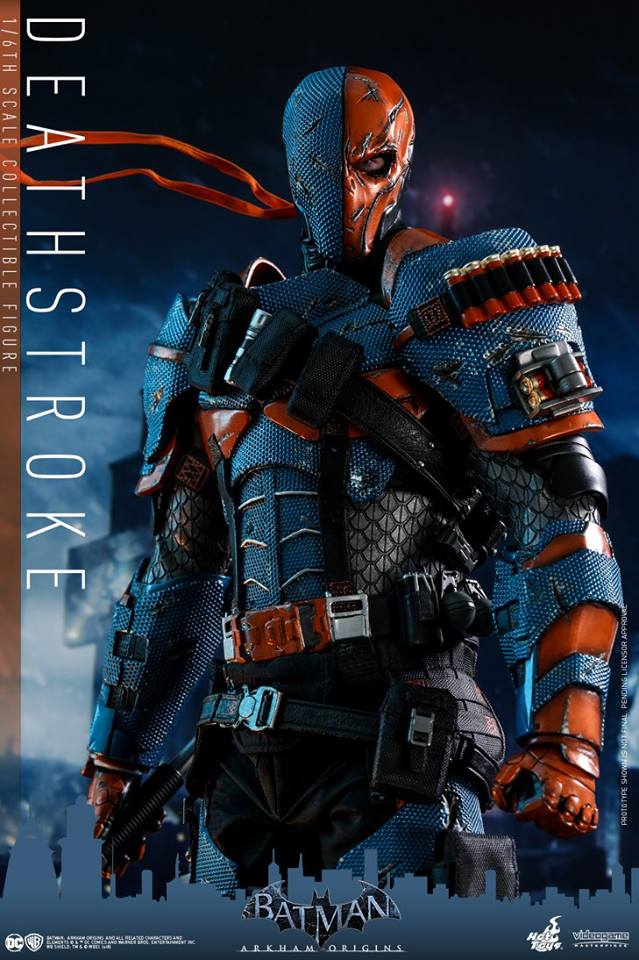 "It appears the game is over before it even begins" – Deathstroke
Slade Wilson, AKA Deathstroke, is one of the world's greatest and most deadly mercenaries in DC Comics. He was part of an experimental super-soldier program which allowed him to gain metahuman strength, speed, and healing abilities. Today, Hot Toys is very excited to officially introduce the 1/6th scale collectible figure of Deathstroke inspired by the designs from the highly acclaimed video game Batman: Arkham Origins.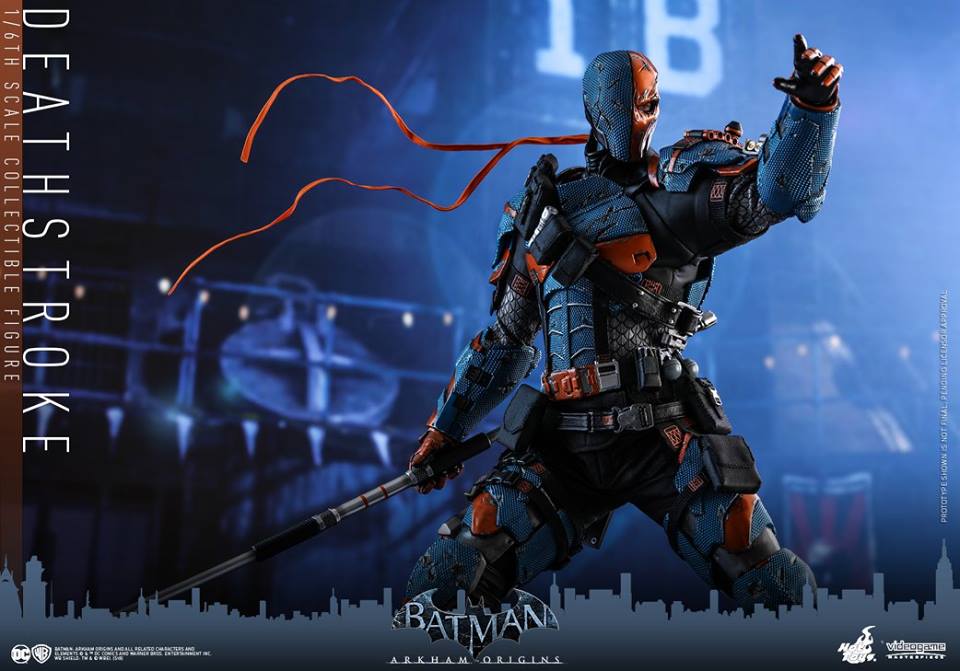 The collectible is expertly crafted based on the appearance of Deathstroke from the game featuring a newly developed helmeted head sculpt with one-eyed mask, a meticulously tailored multi-layer Deathstroke suit with battle damage and weathering effect, an interchangeable battle damaged chest armor plate specially designed for the alternative katana holding pose, an array of detailed weapons including Deathstroke's ballistic staff handle with interchangeable ends displaying different battle modes, a remote claw, a pistol, a katana, two grenades, several detachable bullets off from the shoulder armor and a figure stand with specially designed backdrop!
Specifications:
– Product Code: VGM30
– Product Name: Deathstroke
– Height: Approximately 32cm tall
– Points of Articulations: 30
– Special Features: A newly developed Deathstroke helmeted head sculpt with one-eyed mask, An interchangeable battle damaged chest armor plate, A remote claw with articulated claw
– Artists: Head Sculpted by N/A.
– Head Painted by N/A.
– Head Art Directed by N/A.
The 1/6th scale Deathstroke Collectible Figure specially features:
– Authentic and detailed likeness of Deathstroke in Batman: Arkham Origins game
– A newly developed Deathstroke helmeted head sculpt with one-eyed mask
– Approximately 32cm tall
– Newly developed specialized muscular body with over 30 points of articulations
– One (1) interchangeable battle damaged chest armor plate
– Nine (9) pieces of interchangeable gloved hands including:
– One (1) pair of fists
– One (1) pair of relaxed hands
– One (1) pair of hands for holding remote claw
– One (1) pair of hands for holding katana
– One (1) energy staff holding left hand
Costume :
– One (1) newly designed and greatly detailed orange and blue – colored battled damaged Deathstroke armor with weathering effect
– One (1) silver-colored under shirt with scale-pattern
– One (1) pair of black-colored pants
– One (1) black-colored leather-like utility belt with katana sheath and pouches
– One (1) black-colored leather-like belt with pouches around the belt and pistol holster on thigh
– One (1) thigh holster with pouch
– One (1) pair of black-colored boots
Weapons:
– One (1) ballistic staff handle with two (2) sets of interchangeable ends (collapsed and expended)
– One (1) remote claw with articulated claw
– One (1) pistol
– One (1) katana
– Two (2) grenades
– Seven (7) bullets attachable to left shoulder armor
Accessory:
– Specially designed figure stand with game logo, character nameplate and backdrop
Hot Toys Deathstroke Batman Arkham Origins